Skip to Main Content
It looks like you're using Internet Explorer 11 or older. This website works best with modern browsers such as the latest versions of Chrome, Firefox, Safari, and Edge. If you continue with this browser, you may see unexpected results.
Epson SureColor P6000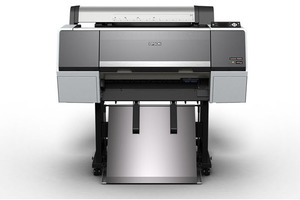 Large Format Printing with the Epson SureColor P6000
Large format color printer for high quality photographic and graphic design output.
User Manual and Safety Warnings for the Epson SureColor P6000
Safety Warnings:
Avoid getting ink on your skin or in your eyes and mouth.

In case of contact:

Wash skin thoroughly with soap and water.
Flush eyes immediately.
Spit out and seek medical help.

Do not come in contact with the paper cutter. If the cutter needs to be replaced, contact library staff.
Do not lift or move this machine. Contact library staff if the machine needs to be moved.